Operation Reinhardt – Educational Materials
The Education Department of the Warsaw Ghetto Museum has prepared educational materials about Operation Reinhardt.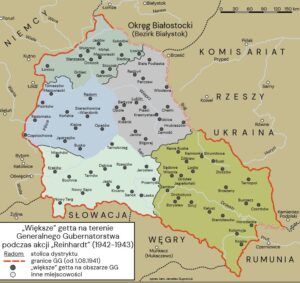 In 2022, we had been commemorating the 80th anniversary of Operation Reinhardt — the German Nazis operation which led to extermination of nearly 2 million Jews from the General Government and Bialystok District. The operation was named after Reinhard Heyrdich who called the Wannsee Conference. Aktion Reinhardt was led by the SS leader of the Lublin District, SS-Brigadeführer Odilo Globocnik.
During Operation Reinhardt, the Jewish citizens were being exterminated in their homes as well as in the extermination camps, such as Bełżec, Sobibór and Treblinka. By the end of 1943, around 1,85 million Jews had been killed.
You can learn more about Aktion Reinhardt by watching the documentary by Michał Szymanowicz produced for the Warsaw Ghetto Museum.
Aktion Reinhardt, full version [50 min]
Aktion Reinhard, Hebrew version