The foundation stone for the Polish History Museum was laid. Warsaw Ghetto Museum congratulates.
The map of Warsaw museums is completed. With the participation of state and self-government authorities, clergy and directors of the museums, there was a ceremony of laying an erection act for the construction of the permanent seat of the Museum of Polish History in the Warsaw Citadel.
President Andrzej Duda in a solemn letter, read by the Undersecretary of State in the Chancellery Office of the President of the Republic of Poland, Wojciech Kolarski, wrote that the citadel for 80 years filled the hearts of Poles with fear. It was a symbol of slavery and terror. And he added that only now we are faced with the chance that this space, once ominous and then overlooked, would play an important and positive role in the consciousness of Poles.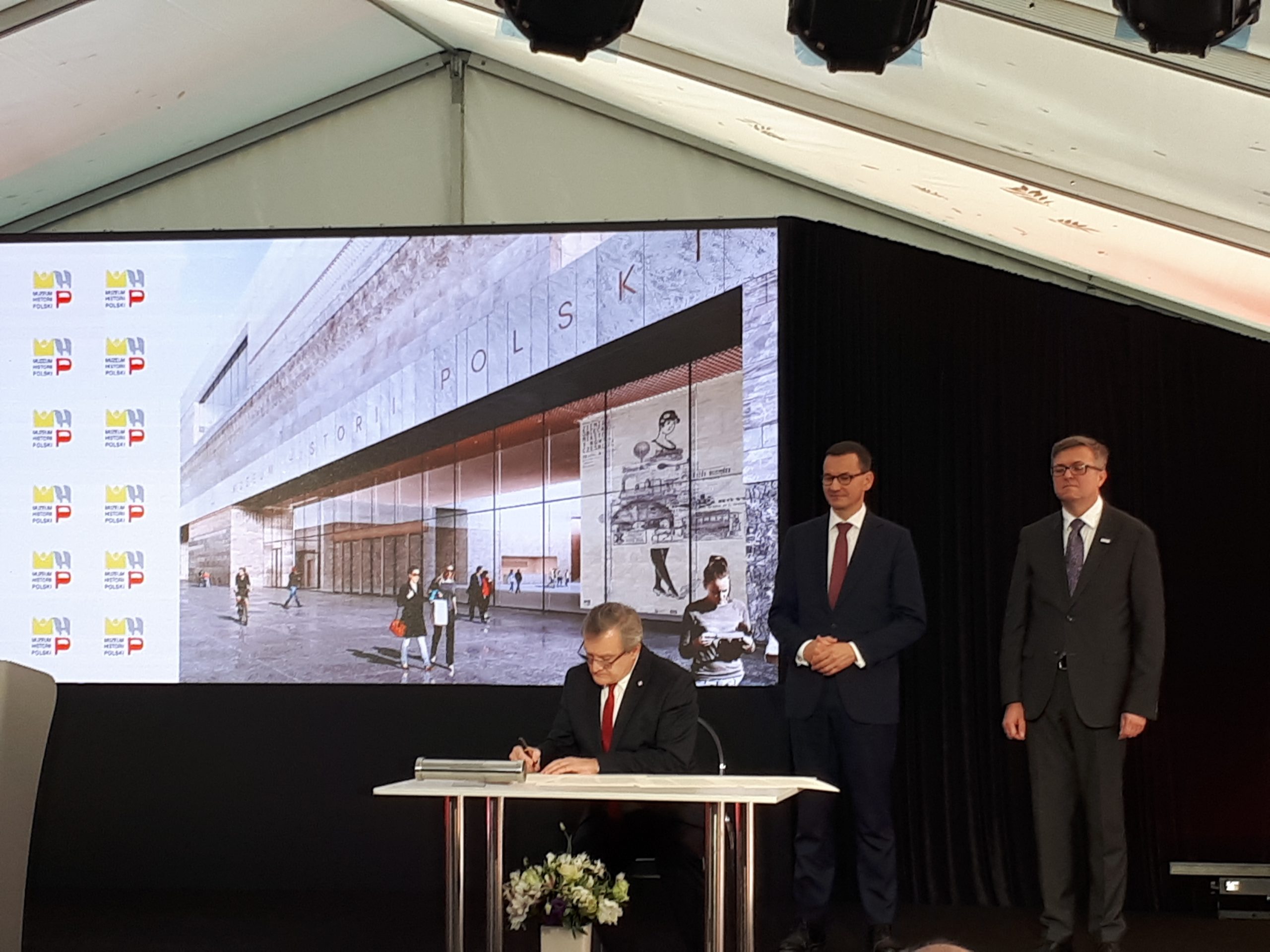 Prime Minister Mateusz Morawiecki reminded that it was Poles who gave a huge tribute of blood on all fronts of World War II, creating "the world's largest underground state", fighting for "freedom, dignity and humanity".
Deputy Prime Minister and Minister of Culture Piotr Gliński assessed that "there is no nation without memory". "The wise nation nurtures this memory through institutions. Today, we are actually starting to build such an institution, building a monument of our history. For the implementation of the largest and unprecedented project in the field of museology in the history of our homeland and devoted to those times."
The tube inbuilt in the foundations of the museum contains circulation coins and banknotes, commemorative coins and banknotes of the National Bank of Poland, a copy of the Thursday edition of "Rzeczpospolita" daily as well as films and photos presenting the current state of the museum construction recorded on a USB stick.
The cornerstone was blessed by Roman Catholic, Orthodox, and Evangelical clergy as well as the Chief Rabbi of Poland, Michael Schudrich.
The building of the Museum of Polish History will be located within the Warsaw Citadel premises, in the future Independence Park. There is also an existing Museum of the 10th Pavilion and the Katyn Museum and at the same time the new seat of the Polish Army Museum is being built there.